Email Extractor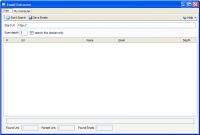 Email Extractor is an extremely powerful and reliable utility created to extract email addresses. With the help of Email Extractor you can build targeted email lists without superfluous efforts. Email Extractor is a perfect tool for building your customer emails list using your mailbox files.
This software can extract email addresses from various kinds of sources, as for instance, your local files, plain text, web pages ( by using HTTP and HTTPS protocols), HTML files. Email Extractor can retrieve all valid email addresses.
You can perform as many searches as you want. Moreover, Email Address Extractor features an option to search particular domains. You just need to specify what domain you would like to search, whether it is .com, .org, .net, etc.
You can also use it to find files on your computer, your Outlook letters and folders. After retrieving addresses it generates an output file containing only valid and well formatted email addresses without duplicates. This software works very fast, and is easy in usage. And most important of all, it comes at a very affordable price. Email Extractor is compatible with all kinds of web servers. It knows all the ruses of the HTTP and HTPS protocols.
Main Features:
• It has a special auto save feature, which saves automatically the email addresses immediately after they are extracted
• Top level domain search
• Exclude specific email addresses containing a particular phrase
• Specify domains you want to exclude addresses from
• Automatically reconnects to the server if the connection was broken. It doesn't stop somewhere in the middle of the process
• Extracted email addresses are saved in text file
• Allows importing your files with email address into any kind of Bulk Mailer